Theatregoers
We are now in the depth of winter with the longest day fast approaching here this new programme of plays will give us something else to look forward to.
LATEST NEWS
The Theatre Club has reserved 34 tickets for the 6th April at the Royal Shakespeare Company in Stratford for a new play based on Maggie O'Farrell's best-selling novel, Hamnet.
Estimated cost including transport £50.
BOOK NOW FOR THESE UPCOMING TRIPS
( see posters for more details)
THE SHAWSHANK REDEMPTION The Everyman Theatre Cheltenham Thurs 16th February
FISHERMAN'S FRIENDS New Theatre, Oxford, Weds 15th March
MRS WARREN'S PROFESSION Malvern Theatre Thurs 13th April
For more information please call
JANE TELFER Tel: 01993 358935  email:[email protected]
Or use the Booking Form to reserve your tickets.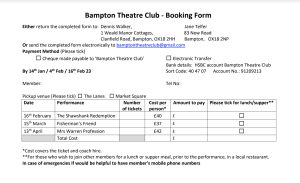 16th February – 13th April 2023